Ranpak Tips for Celebrating the Holidays Sustainably
Uncategorized
January 3, 2022
Celebrating the Holidays Sustainably
As a global company, Ranpak's employees around the world celebrate the holiday season in diverse ways. From festivals and celebrations to personal traditions shared with family and friends—peace and joy are in the air and fun is all around. This year, several Ranpak employees shared their holiday traditions as well as some of their tips and tricks for embracing sustainability as they celebrate.
Joy's family celebrates Christmas and Hanukkah.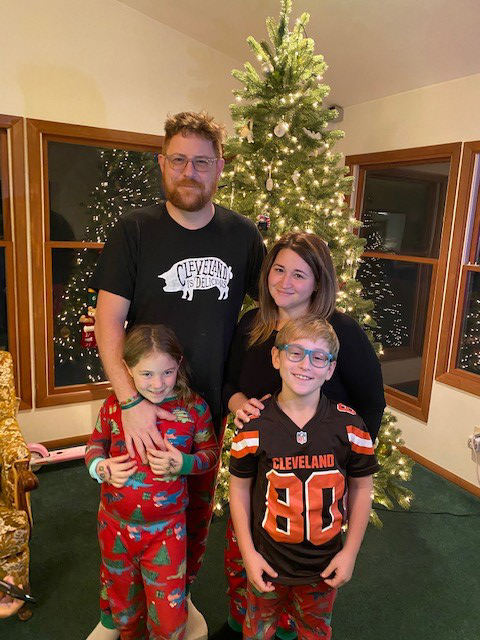 Having grown up in a split household where both Christmas and Hanukkah were celebrated, Joy wanted her children to make wonderful memories like those from her own childhood.
Joy's family continues traditions of visiting one another, with annual gatherings that she looks forward to each year. "Our Jewish side of the family always visits Cleveland over the week of Thanksgiving, as we are all spread out across the country. Each year, we gather up for a Cousins Party night on the Wednesday before Thanksgiving, where we all get to catch up and get all of our kids together. We grew up very close, so that tradition is one way that we preserve our family connections with the next generation even when we are geographically so far apart. It is one of my favorite days of the year."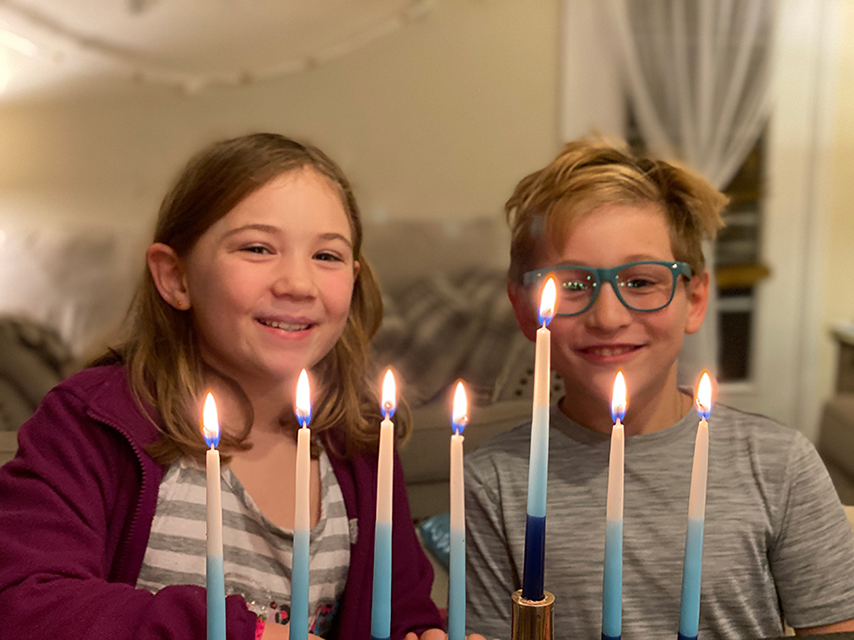 "Food is love."
Some seasonal traditions in the family include an annual holiday cookie baking weekend. "It's always so fun to cook with family and each year we incorporate new recipes and learn more about the long-time favorites too," Joy shares. "My favorite holiday cookies are my great-grandmother's Kolacky, which we fill with homemade Apricot Lekvar, and traditional Italian Biscotti. Other favorites in my house are Chocolate Cherry Surprises and Coconut Macaroons drizzled in Chocolate."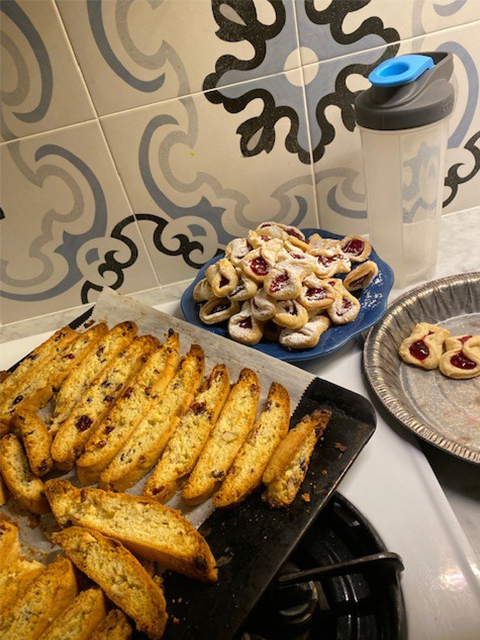 "This year, we are adding some acts of service to our Advent Calendar."
Embracing sustainability happens in a number of ways, including using recyclable wrapping paper and donating gently used toys. "My husband is a chef, so we try to source all of our food locally. Not only is it fresher, but we get to support local farms and put money into the local economy. We are very conscious of our 'food miles' and try to help drive conservation in that way. Much of our volunteer activities and activism is centered around food insecurity in this area."
Imitaz's family celebrates traditional Indian holidays, as well as American seasonal holidays including Halloween, Thanksgiving, and Christmas.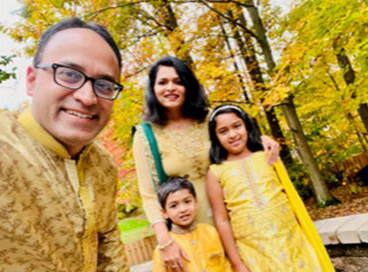 Imtiaz and his family love to spend time together enjoying holidays and festivals. While their seasonal calendar includes popular American seasonal holidays, it also includes traditional Indian holidays such as Diwali, Ganesh Chaturthi, and Id-E-Milad.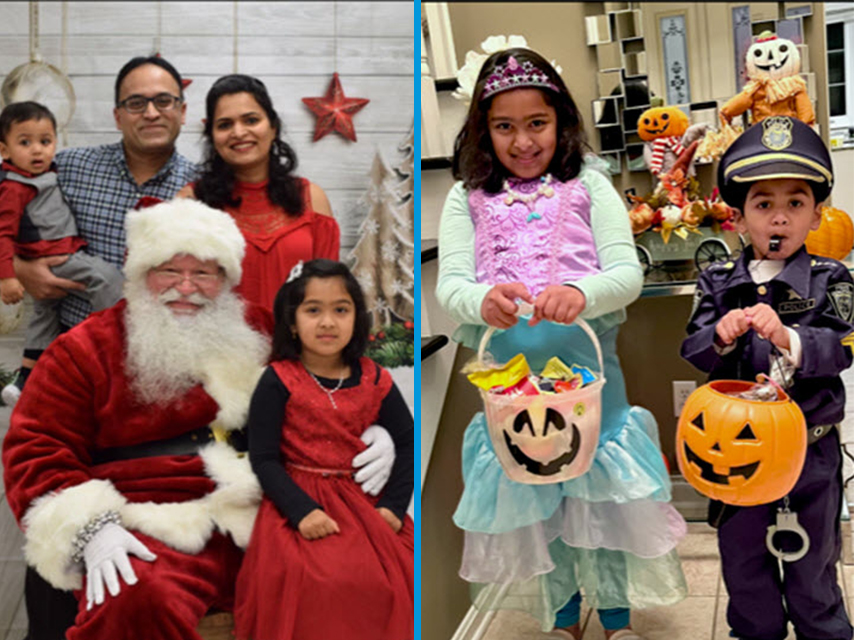 "Kids have so much fun on different occasions."
Imtiaz shares how his family mixes cultural traditions with seasonal activities. "For Indian festivities, the family dresses in traditional attire, visits friends, and eats lots of traditional food, some sweet, some salty.  Our kids enjoy firecrackers, pumpkin decoration (of course, going trick-or-treating and getting a ton of candies), Christmas tree setup and mostly, Santa's gifts. On the food side, my wife adds a flavor twist to our Turkey seasoning, making it delicious."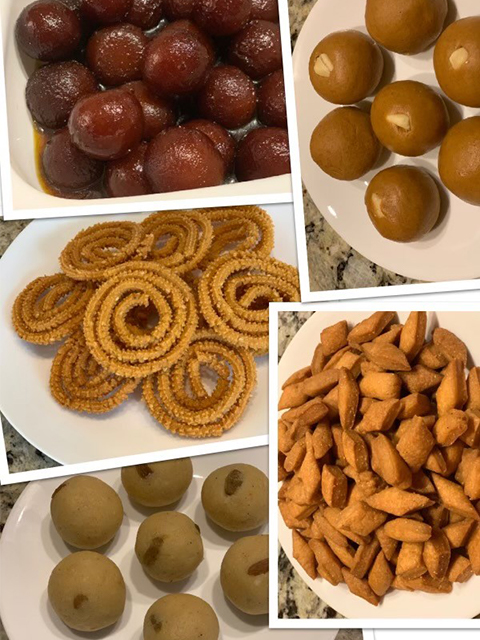 Using sustainable materials to share gifts.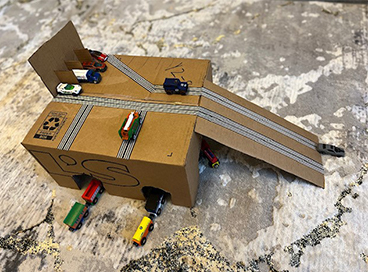 The family loves to exchange presents while keeping their packaging part of the circular economy. "For holiday gifts, we are diligent about asking e-commerce businesses to ship with paper packaging and not plastic airbags. We wrap 'Daddy and Mommy gifts' for our kids with extra kraft paper. For our children's arts and crafts, we reuse and recycle boxes, dunnage paper, and other materials to create kraft work projects that can provide lots of entertainment."
Japet looks forward to Christmas in the Philippines, starting with the first of the "BER months" in September.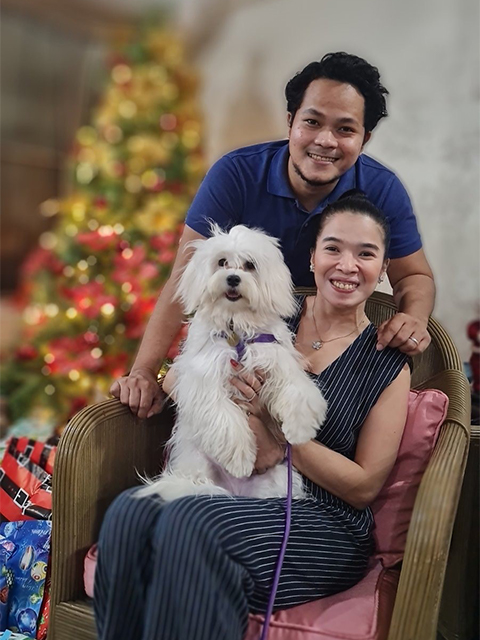 "Christmas is the most celebrated holiday in the Philippines," Japet shares. "If you thought that November was too early to put up Christmas decorations, you haven't seen anything quite like the Philippines. The Christmas season here, begins on September 1, which marks the start of our so-called 'BER months'. People start putting up Christmas decorations, festive lights and lanterns and Christmas songs are played in every corner. The moment you hear Jose Marie Chan's 'Christmas in our hearts,' on a radio, you'll know the season has already begun."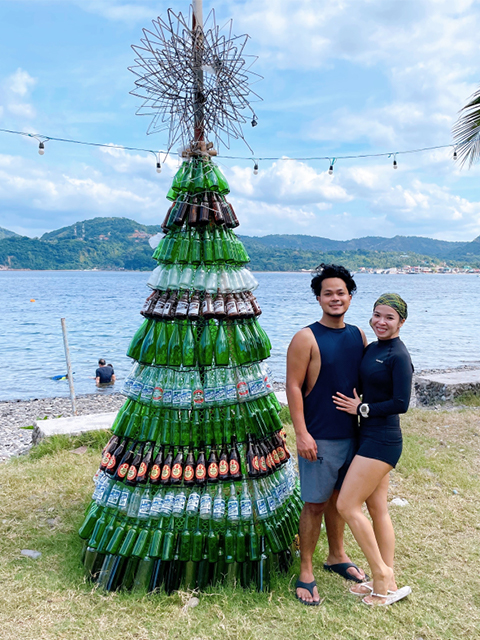 "Schedule buying gifts and supplies early."
Japet's sustainability tips help to reduce energy use during the holiday season.
"Use LED lights for house and Christmas tree lighting as they use up to 90% less energy than traditional incandescent bulbs. Extend the life of your old newspapers and used Geami paper wraps. Re-use them as a gift-wrapping material and just add flowers for color. Pretty and neat. Schedule buying gifts and supplies early. This way, you'll get to avoid the last-minute shopping traffic and crowded shopping centers. Less stress and hassle-free. Works for me!"
Diana celebrates Christmas and Boxing Day, a UK favourite.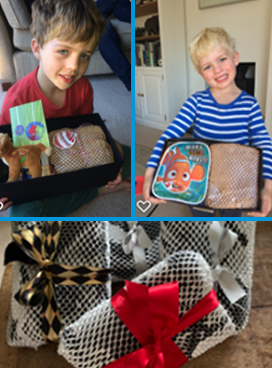 Boxing day takes place on December 26th and is know in the UK as a time to catch up with family, relax with walks, and enjoy the day after the Christmas holiday.
"Children leave out a carrot for Rudolph, mince pies and a glass of wine for Father Christmas."
Diana's family loves to spend time together, making sure that every part of their celebration can be used to the fullest—including decorations. "In recent years we have started putting up Christmas decorations earlier around end of November to prolong the magic of Christmas. My parents always give our children a new Christmas tree decoration each year for them to hang up."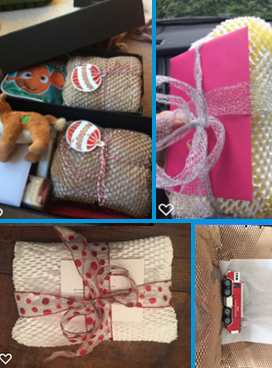 Keeping gifts protected and conserving materials.
Sustainability is made a part of their festivities through planning to make the most of food, gift wrappings, and toys. Diana's holidays include some packaging materials that have truly kept on giving over the years.
"I keep left over Geami paper from repacks which I use to wrap presents. My family always know the ones from us as they're wrapped in Geami. I try to wrap all presents in brown paper and we have a laugh recycling ribbons from years gone by. We have one lovely box from Harrods which must be about 25 years old which is exchanged back and forth with my parents every year and it's still going strong! For our Christmas decorations I wrap the baubles and fragile items in Geami and reuse the material and have been doing so for the past 3 years. I also use Padpak to line the boxes and protect them.
We try not to waste any food and end up making curries, soups and pies with leftover turkey, ham, and other holiday food.
An important tradition in December is to clear out old toys and clothes which can be given to charity. We often do shoe box appeals at Christmas through our school or parish and the children enjoy finding fun treats for children who would often never have the luxury of receiving a gift."